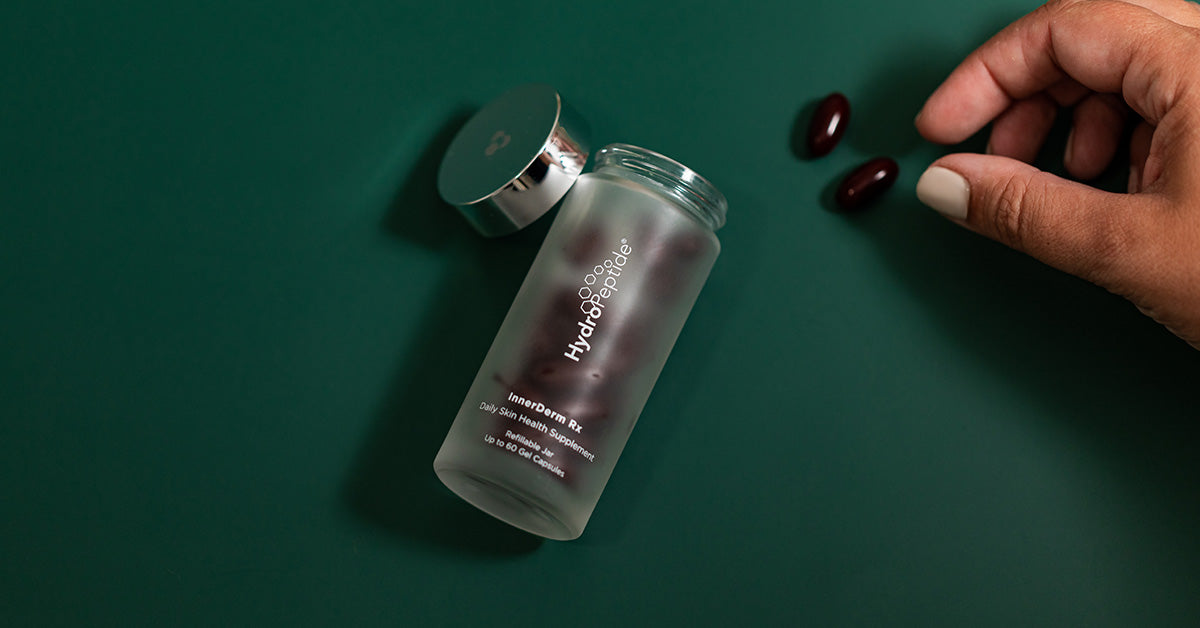 As a skincare brand, HydroPeptide is known for creating clean, award-winning formulas that revitalize your complexion and your routine with professional-grade results. We are always at the forefront of our field, and the research and development process is one we take very seriously. Our newest supplement, InnerDerm Rx, is the culmination of extensive testing—our resident Dr. Neal has been taking it longer than anyone—and collaboration with skin care professionals to source the most potent, effective ingredients and bring you a supplement that truly strengthens your skin. We recently sat down with Dr. Neal to learn more about what makes the newest HydroPeptide product so exceptional.
Why did HydroPeptide think it was important to develop a supplement?
Dr. Neal: Our skin is an indicator of our overall body's health—we can often tell when someone is feeling unwell, or overtired, based on the condition of their skin. Because of this, it's important to take a holistic approach to skin health: Both an external and an internal one.
The external approach includes products that we apply on top of our skin, like serums, moisturizers, and SPF.  The internal approach includes things like a healthy diet, drinking plenty of water, and—you guessed it—dietary supplements. The latter is a key add-on to complement your skincare regimen.
How does taking InnerDerm Rx complement your skincare routine?
InnerDerm Rx helps strengthen and restore the skin so that it's able to better receive signals from ingredients in the topical products. In other words, it can help enhance the results you get from your skincare routine while protecting your skin barrier. Taking a supplement is a way to cross-train your skin to make it more resilient.
Personally, I'm constantly testing new products as a part of research and development for HydroPeptide and I'm not always able to follow an optimal skincare routine. I'm currently testing an exciting new regimen with a pretty powerful main ingredient that requires my skin to be in a strong state. The ingredients in InnerDerm Rx are really helping strengthen my skin to respond to variable environmental factors like this one.
While this specific example may not be common for everyone, we all find ourselves in positions where our skin has to respond to environmental factors we can't control—prolonged sun exposure or pollution, for instance. InnerDerm Rx strengthens your skin and sets it up for better resiliency when it comes into contact with these situations. InnerDerm also better prepares your skin for treatments like chemical peels or micro-needling and enhances your skin's response to active ingredients—like our beloved peptides—in your everyday skincare products.
What makes the InnerDerm Rx formula effective?
When we designed InnerDerm Rx, we thought about which key ingredients would strengthen the skin from the inside out. We looked at which key vitamins and nutrients had clinical data that proved how they strengthened the resiliency of the skin against common concerns.
For example, we thought about sun damage. We always need to use topical protection like Solar Defense SPF, but we also need to take an inner approach with key ingredients that minimize UV damage. The stronger your skin is at handling the output of UV filtration the better—no matter how diligent, we all have moments when we're caught in the sun without proper protection.
We wanted InnerDerm Rx to have a formula that strengthened the skin and worked in tandem with topical actives, like SPF, or serums like HydroStem. When our skin is in an optimized state, it's able to better receive signals and maximize the results from antioxidants, or peptides in these topical products.  
Of course, when it comes to dietary supplements, they're also meant to complement your overall diet. They cannot be a substitute—real results come from maintaining a balanced diet and enhancing that with a supplement.
Which ingredients are you most excited about?
The two hero ingredients are Lycomato™ and Ahiflower Oil.
Lycomato™ is a patented, proprietary blend. This ingredient has a high dosage of lycopene along with tocopherols, antioxidants, and other powerful phytonutrients derived from the tomato plant.
The main function of Lycomato™ is strengthening the skin and enhancing its ability to defend against UV damage, pollution, and sun exposure so your skin is in a better state to withstand these environmental conditions. The benefits include:
Boosted 'reservoir' of antioxidant protection in the skin
Supporting healthy circulation
Improved natural resilience to external stressors
A reduction of the impact of sun exposure on the skin
Increased overall smoothness, density, and thickness of the skin
This particular blend was chosen because of the clinical data we developed—the before and after photos are pretty stunning.
It was also important to us that InnerDerm Rx was a vegan formula, to make it more accessible. This limited which ingredients we were able to use since a lot of supplements include animal byproducts. For example, collagen-based supplements almost always have either fish or bovine-derived ingredients.
The Ahiflower Oil extract provides a plant-based source of omega-3 and 6 fatty acids. It's vegan, nontoxic, and non-GMO. It's one of the best plant-based sources of omega 3 and 6 fatty acids, which reduce inflammation and increase hydration in the skin—overall strengthening your skin barrier.
What are you personally most excited about regarding this supplement?
Firstly, I've probably been taking InnerDerm Rx longer than anyone else! And I feel like I've gotten great results from it.
For me, this was one of the most obvious extensions for HydroPeptide. Research and development is always exciting, but of all the different products that I get to work on, this is one of the most important ones.
Personally, I'm very interested in discovering ways to strengthen my skin as I get older. And as a scientist, I'm always on a mission to uncover how I can optimize my DNA, my skin, and my body overall by taking the right things. This includes a balanced diet, but it also includes taking InnerDerm Rx. As an epigeneticist, I want to live out these values: approaching my health externally and internally. InnerDerm Rx completes an effective, holistic strengthening regimen for smoother, hydrated, protected skin.